(Above) A tribute to my good friend Adam and his lovely wife Amber. As their wedding photographer, I persuaded them to enjoy what I have coined a "First Look Session" prior to their meeting upon the altar. After getting a thumbs-up from them both, I arranged a private moment for them both. I placed Adam just outside the main doors of the church where they were to be married in and then asked Amber to wait patiently behind the double doors until I gave the signal to come out and meet her waiting groom. It was an emotional moment for me behind the camera as I wanted to both record the moment and cherish it. As soon as Amber came through the double doors I silently commented to Adam, "your bride looks amazing!". And so, a moment that would have otherwise been so short lived and neglected of touch and spoken words, lasted a full twenty minutes. This video montage captures the highlights of that special moment.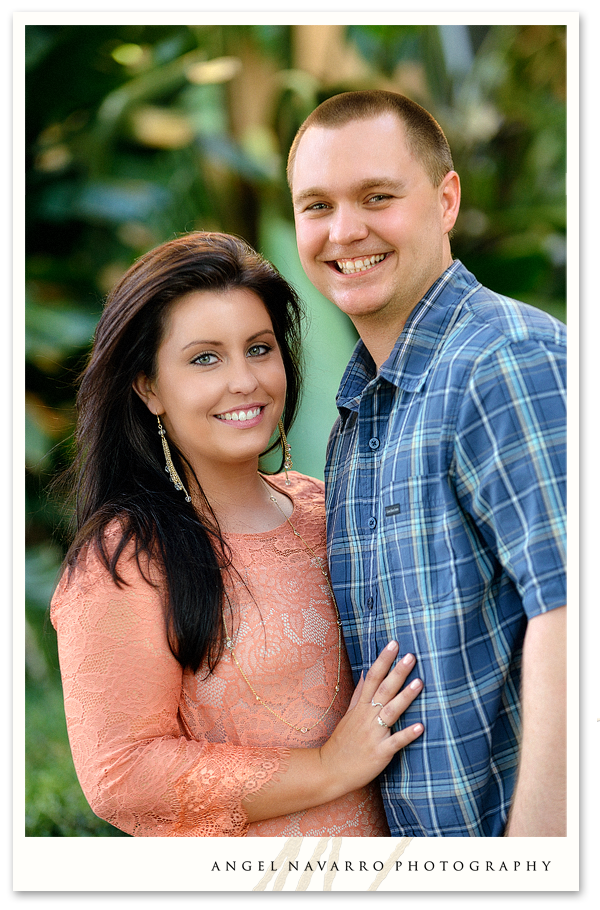 (Above) A close-up photo of Adam and Amber captured on their engagement session in Bradenton, Florida. Engagement sessions are very popular with today's bride and groom. They are also a great way to become acquainted with the bride and groom prior to the wedding. As a wedding photographer, I really enjoy engagement sessions as they give me the opportunity to start a relationship with my clients.
(Above) This beautiful portrait of Adam and Amber was captured in the late afternoon along with a beautiful sunset background. The colors of the sky were incredible on that particular afternoon by the boat docks.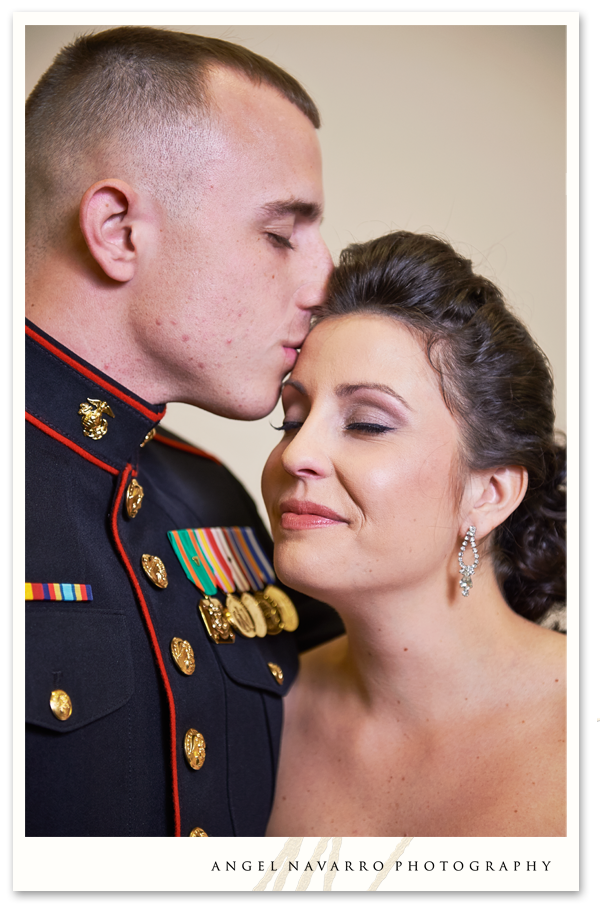 (Above) Before the ceremony, as the bride was getting ready, for brother, who is in the Marines, came to visit her. will and the bride became overwhelmed in his presence and I was fortunate to capture this image of that special moment.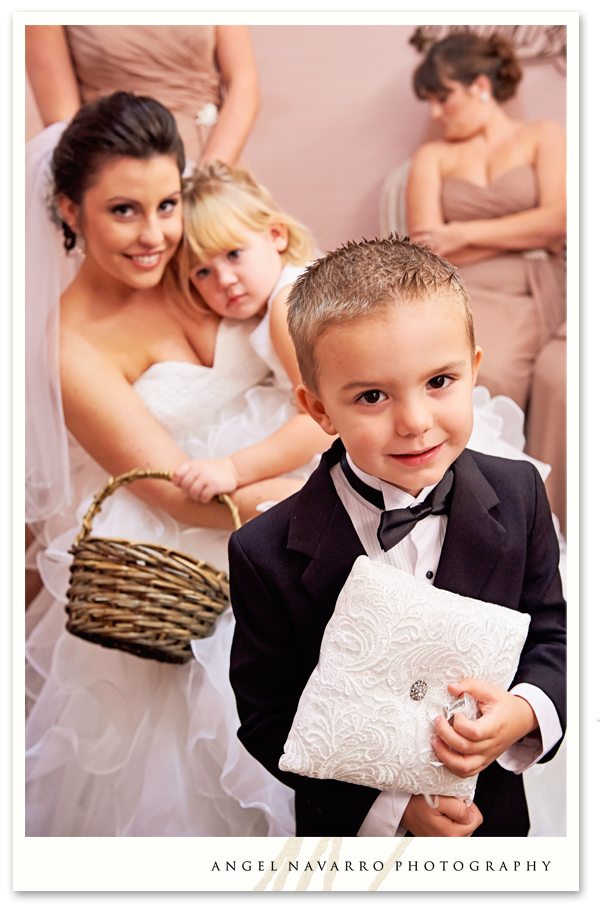 (Above) In this picture, the bride is gathered with all her bridesmaids. I captured this unique moment as the ring bearer glanced up into my camera lens juxtaposed against the bride in the background holding the flower girl.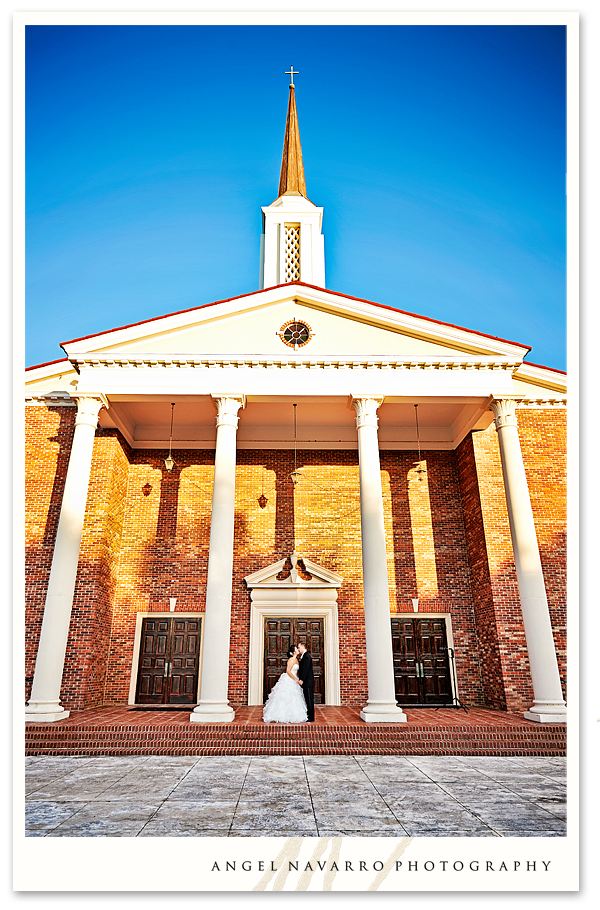 (Above) This photo was captured of Adam and Amber shortly after their "First Look Session" which is featured in a video at the top of this post. The contrast between the punchy blue sky and the red brick provide a unique look to this photo.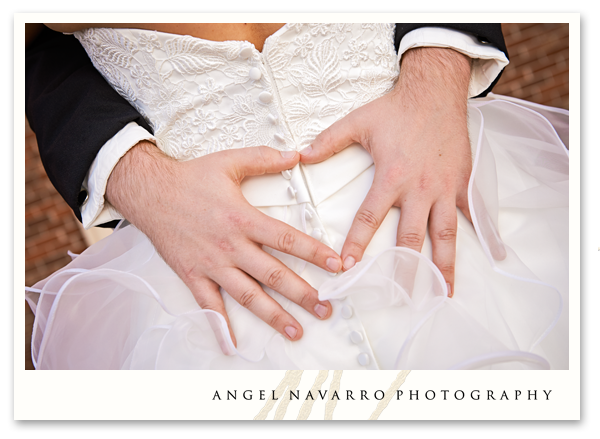 (Above) Adam creates a heart shape with his hand atop Amber's waste as he embraces her before the ceremony.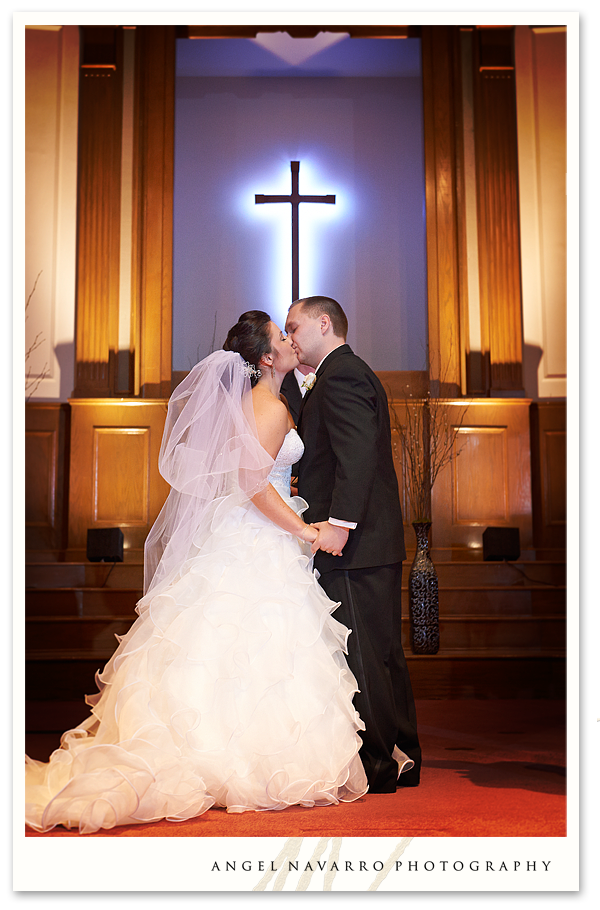 (Above) Once pronounced 'man and wife', I captured this colorful photograph of Adam and Amber overlooking the cross in the baptismal of church.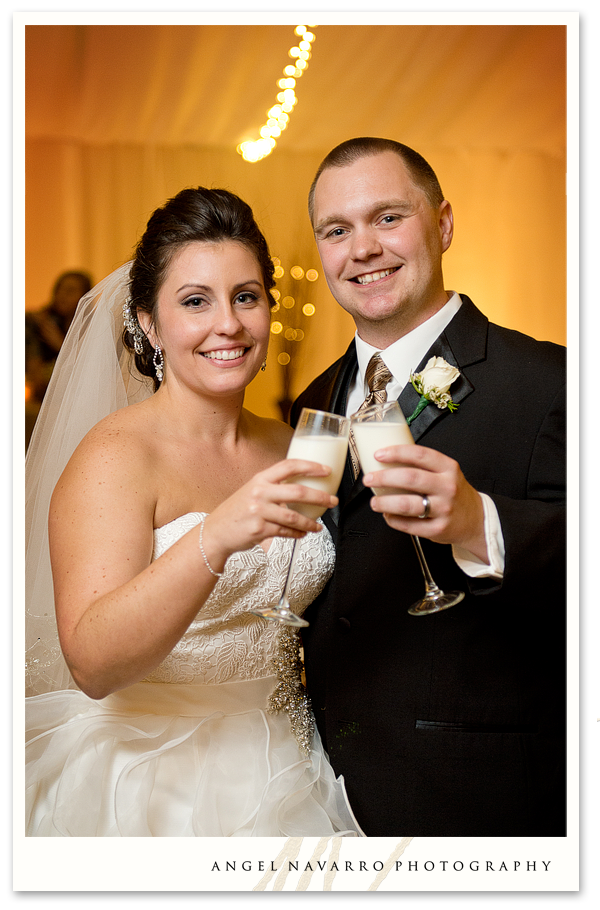 (Above) Well into the reception, I posed Adam and Amber for this portrait of a toast overlooking the warm glow of their reception.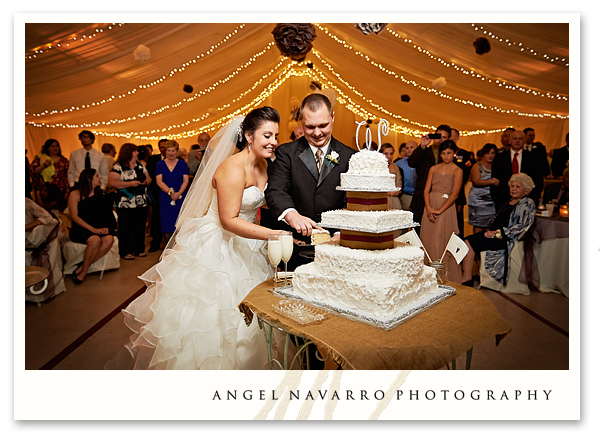 (Above) During the cutting of the wedding cake, I always make it a custom to ask all of the guests to gather behind the bride and groom for context. Here we can see Adam and Amber cutting their cake and plating it.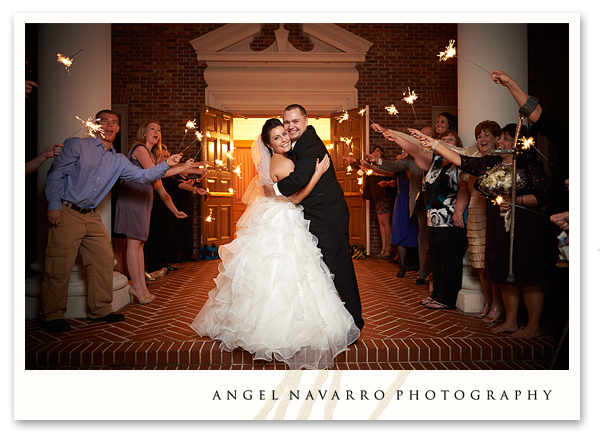 (Above) YouI love this photograph of Adam and Amber embracing each other during their farewell. Family and friends with sparklers and cheers filled the atmosphere as they set off into the night.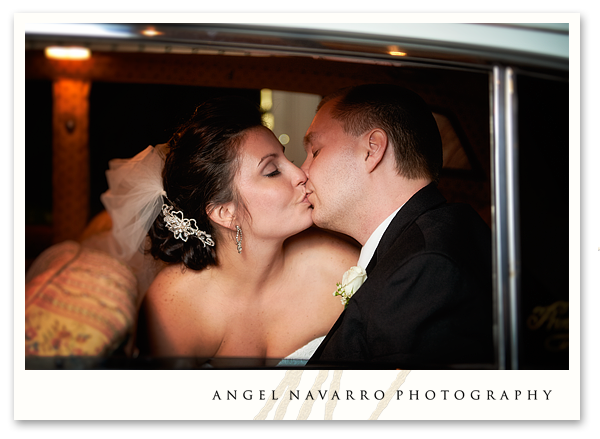 (Above) Now in their limousine, and after carefully placing my light, I captured this moment of Adam and Amber enjoying a smooch.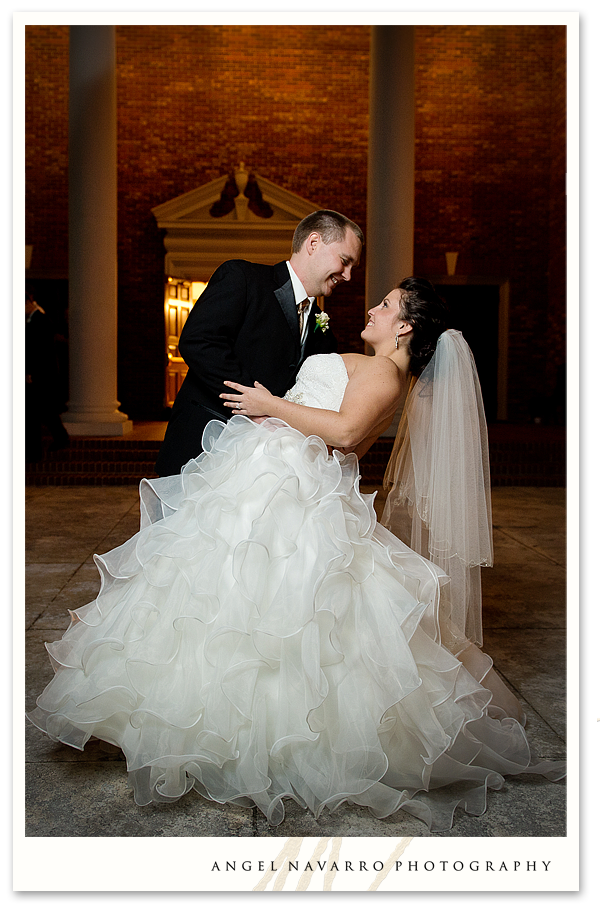 (Above) A very jovial and classical portrait of the bride and her groom in front of their Bradenton church.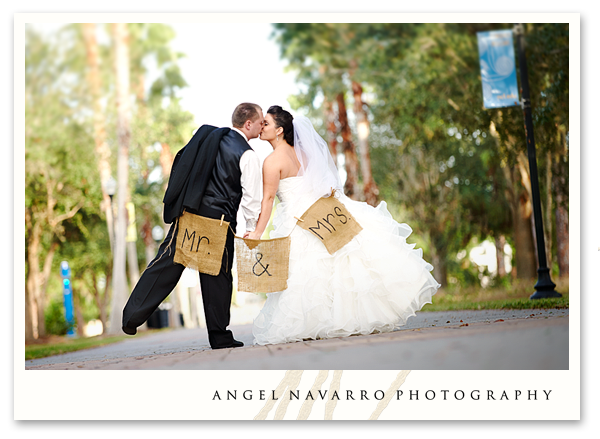 (Above) Here are a couple of pictures from Adam and Amber's post wedding session in Sarasota. They both brought some props and we were quick to put them to use. In this photo, the newlyweds are sporting their Mr. and Mrs. signs during this funny moment.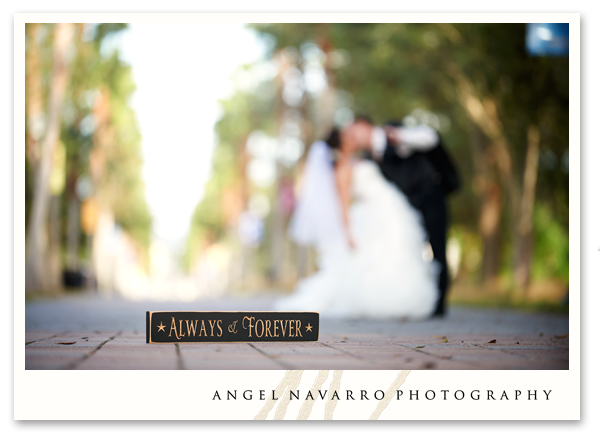 (Above) While in a local park in Sarasota, I juxtaposed their "always and forever" placard in the foreground and place them into rear with a strong blur for visual contrast.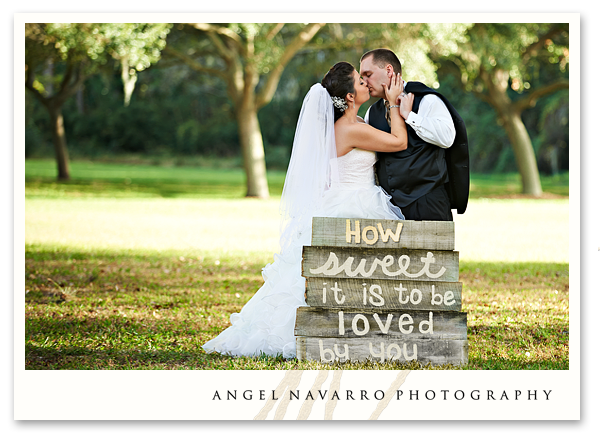 (Above) "How sweet it is to be loved by you", was the perfect message for this particular moment.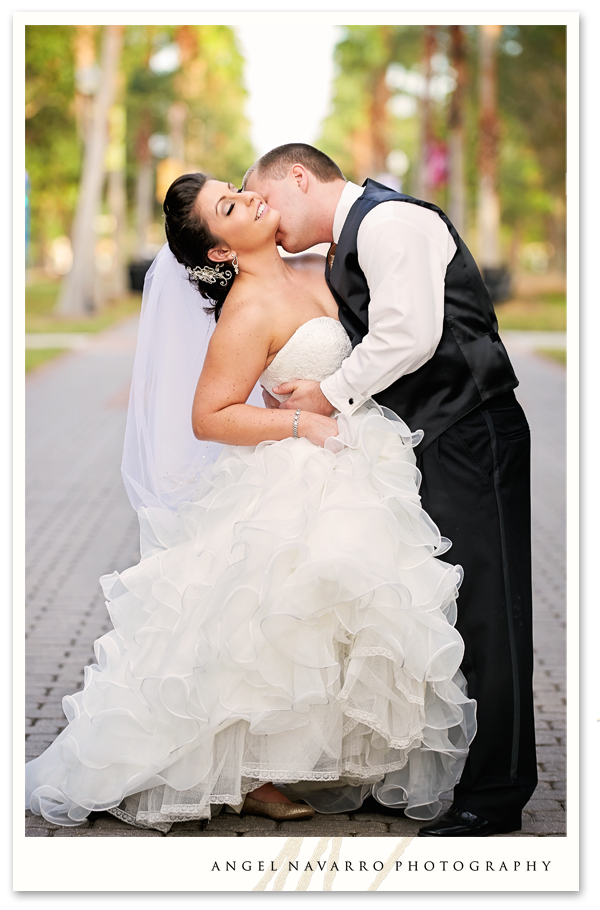 (Above) Here Adam can be seen giving his lovely bride "LOTS of LOVE"!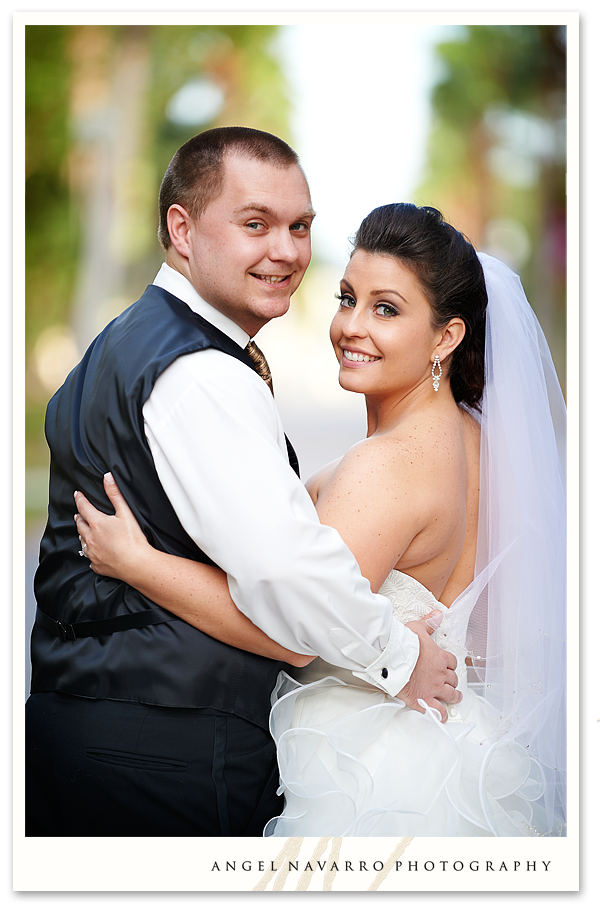 (Above) I asked Adam and Amber to slowly walk away from the camera and at mu cue, look over their shoulders. The result was nothing short of a lovely candid of the moment.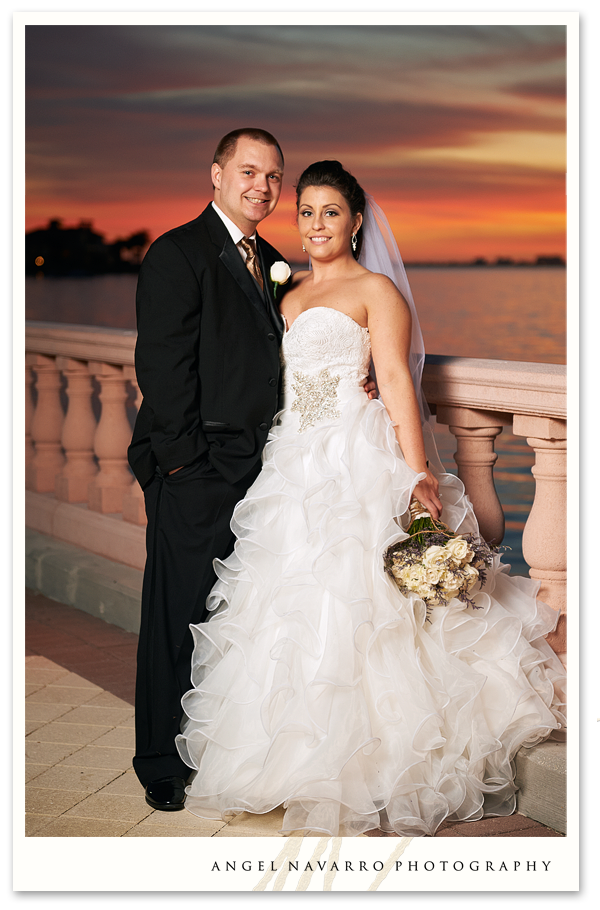 (Above) Nearing the end of the evening, I asked Adam and Amber to walk towards the banisters near the channel. A beautiful sunset descended over the horizon and provided the perfect backdrop to this fabulous wedding portrait.
by Angel Navarro Photography
Professional Wedding Photography
Website: http://www.angelnavarrophotography.com
Blog: http://www.angelnavarroblog.com
Facebook: "Angel Navarro Photography"
Twitter: "@Angel_Navarro"
e-Mail: angel@angelnavarrophotography.com
(941) 538-6804