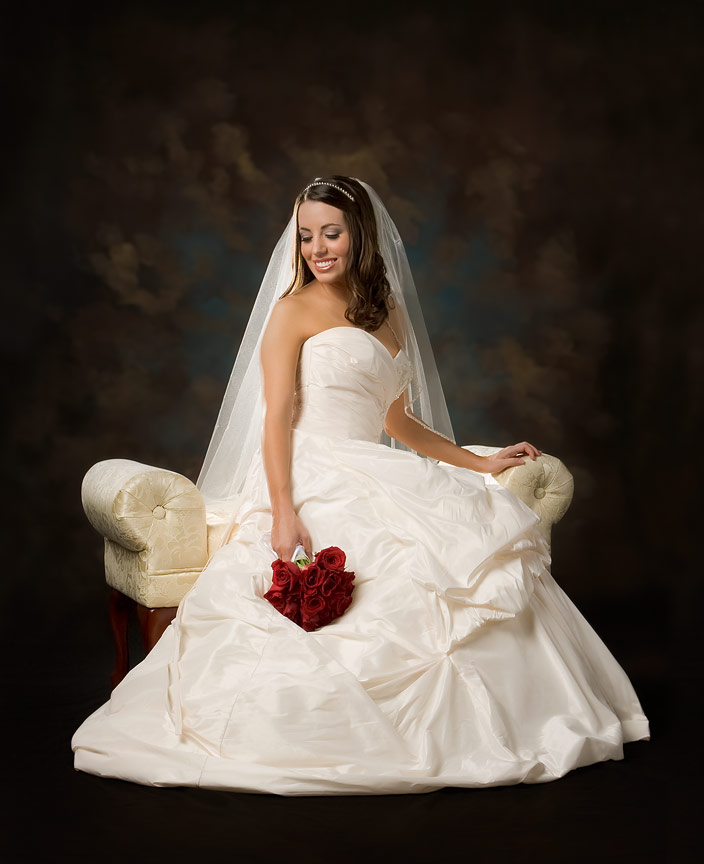 by Angel Navarro Photography
Wow! What a privilege to have captured this lovely bridal portrait. As any bride can imagine, she was nervous and timid about her portrait. However, I reassured her that I had a vision for this shot and she would love her expression, the pose and the final print.
It's a shame that so many brides nowadays pass up the opportunity for a bridal portrait. I always say, "it's the one opportunity you will have to enjoy a full rehearsal with your wedding gown and in the process have a memorable photo taken that will be cherished for years to come.
In this bridal portrait, many elements are present but not seen. By this I mean the lighting, the pose, the props, and the mood. In posing her, I created an "S" figure with her body. The lighting is short, meaning the mask of her face is receiving a flattering splash of light. And, the props are kept to a minimum to ensure that she receives your attention and not the elements surrounding her.
In all, the bride is happy and I am happy with the results. So, if you are a soon-to-be bride and you're planning away with all details of your grand event, remember to include in your plans a bridal portrait.
Angel Navarro Photography
Professional Wedding Photographer
5310 4th Avenue Circle E
Bradenton, Florida 34208
Website: www.angelnavarrophotography.com
e-mail: angel@angelnavarrophotography.com
(941) 538-6804