"Enjoy these beautiful pictures from Emily's high school senior session by Angel Navarro Photography in Bradenton."

Looking for great high school senior picture ideas? Not sure what outfits to wear on a senior photo shoot? Read on…
"Great locations are everything to great senior pictures…"

Take a look at Emily's senior pictures captured on an old western movie set in Parrish, Florida.This location is amazing! There is a weathered look everywhere with so many places to pose Emily for a rural and casual look. I also created two fantasy portraits for Emily which include one of her favorite things to do — "reading books". Photography by Bradenton High School Senior Photographer — Angel Navarro.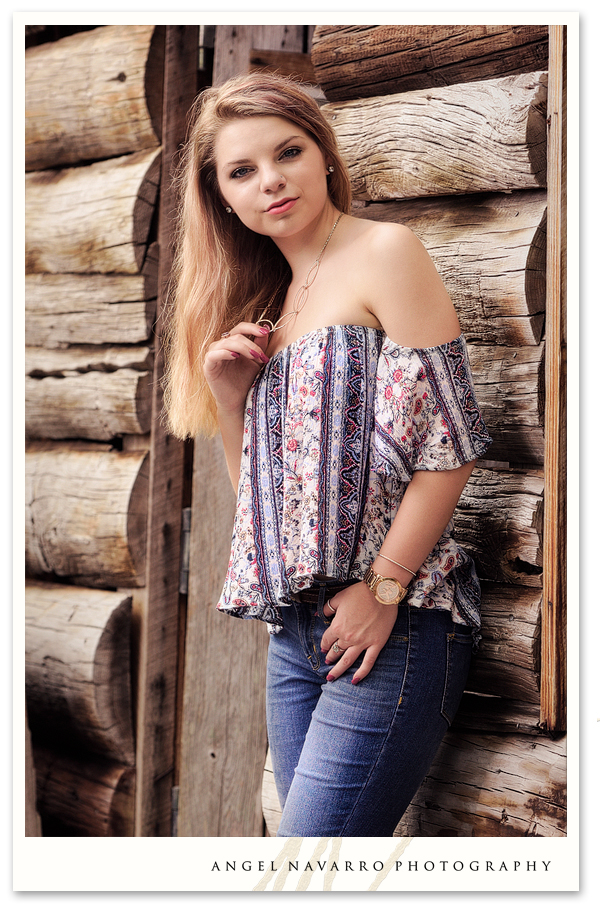 (Above) This location is amazing! The place is called Dry Creek and it is a real old western movie set used in the filming industry. The backdrop in this senior picture of Emily is actually the outside of a general store. I asked her to lean forward a little so her hair would straightened and catch the glistening light on its edges. The delicate gesture of her hands with the necklace gives this portrait a playful look.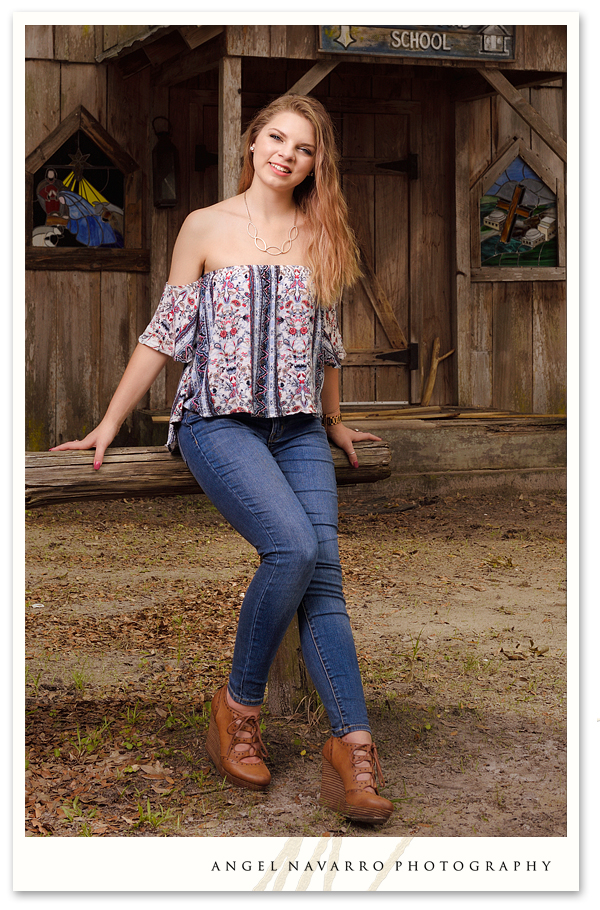 (Above) Another great senior portrait this time using an old church in the background. It was pretty hot that day, so I fetched a scrim from my car with white diffusion to shade her from the harsh sun and soften the light falling on her.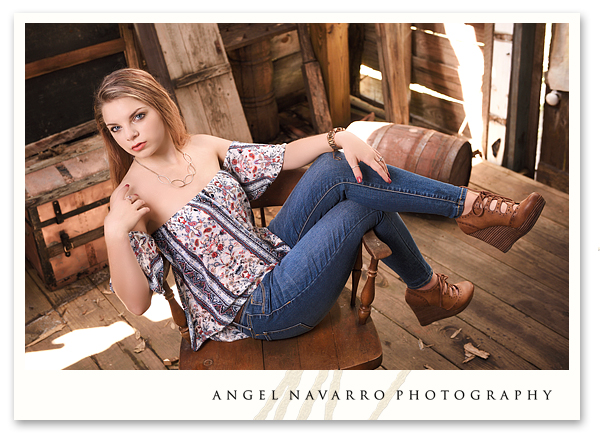 (Above) This portrait of high school senior Emily was shot inside the faux saloon of Dry Creek.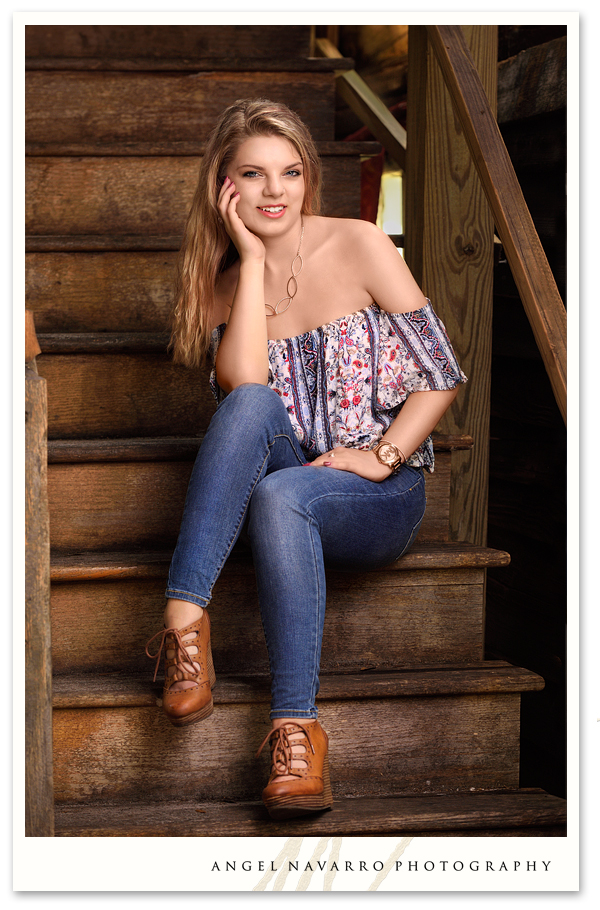 (Above) I simply love this pose! In every aspect, this is a stunning look for a high school senior portrait. The rural feel and look of this photo, coupled with the natural beauty of this young lady is the reward of good planning, good posing and good control of light.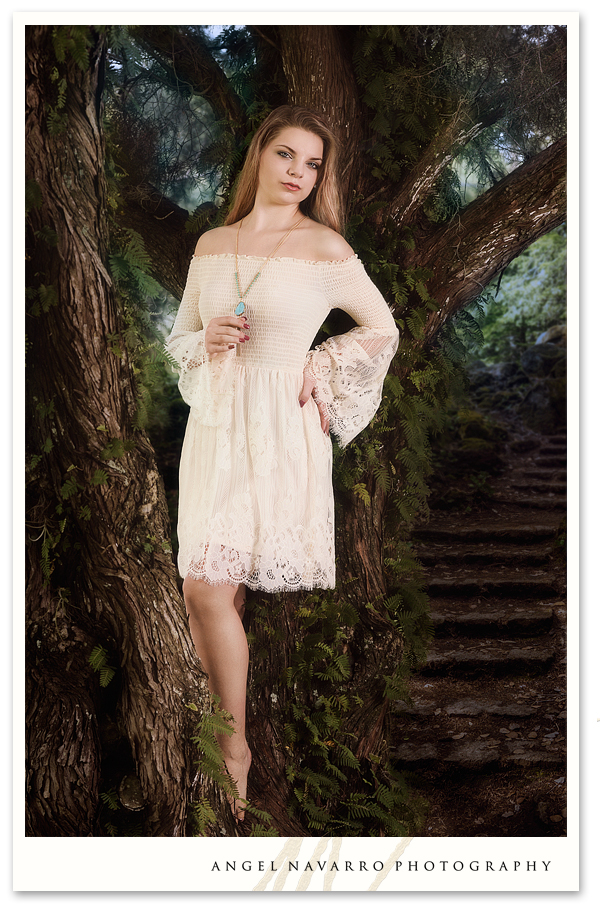 (Above) Believe or not, there was a busy roadway behind our senior posed in the tree. It actually cut across the center of the composition. I included some stairs in place of the roadway through a process known as compositing. This is one of the many services I provide as a professional photographer of high school seniors and their parents.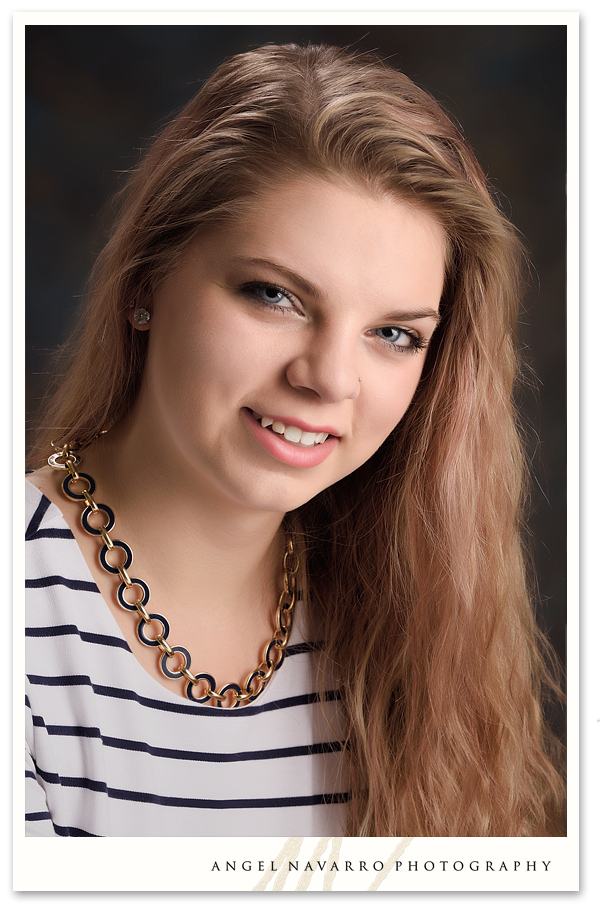 (Above) Ahhhh… the ubiquitous formal studio headshot portrait. It is for the school yearbook. Don't get me wrong, I very much enjoy creating amazing pictures for high school senior guys and girls, but I also remember that some pictures are destined for the grandparents who are more traditional in their taste for pictures.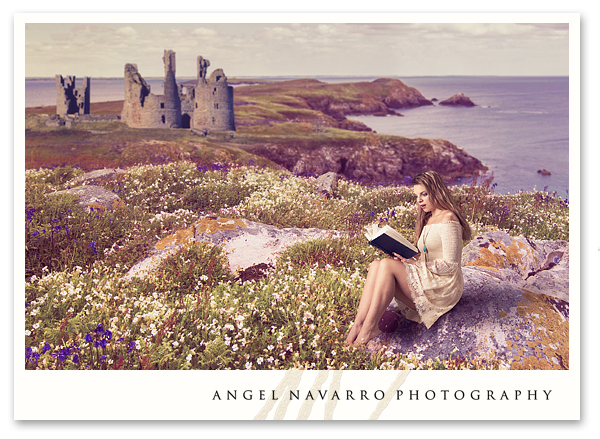 (Above) This fantasy portrait, and the one below, was an exercise in creativity.
You see, Emily loves to read books and novels. So, I suggested we create a fantasy look of her reading in a surreal environment.
She loved it!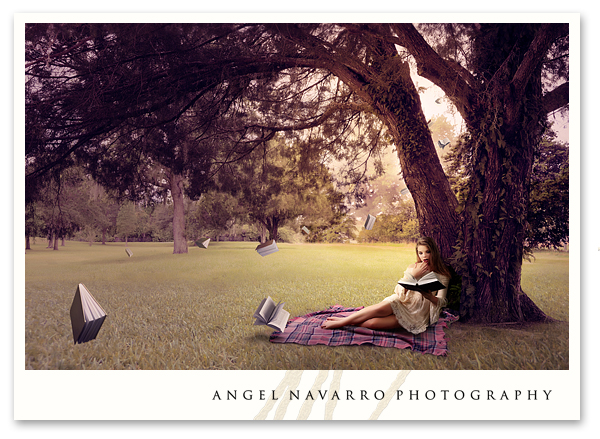 (Above) My favorite of the two fantasy portraits. I photographed Emily under a tree on bare ground. Wanting to create something incredible for her, I added a blanket underneath her, reworked the lighting in the scene and composited in books falling from the sky around her. If you like this image, let me know your thoughts. I am a premiere Bradenton High School Senior Photographer and I would love to meet with you and talk about how we can prepare for your session. See details below!
Like to schedule a session for senior pictures? Click here to get started.
by Angel Navarro Photography
Bradenton High School Senior Photographer
Website: http://www.angelnavarrophotography.com
Blog: http://www.angelnavarroblog.com
Facebook: "Angel Navarro Photography"
Twitter: "@Angel_Navarro"
e-Mail: angel@angelnavarrophotography.com
(941) 538-6804