"Enjoy these beautiful pictures from Kourtney's high school senior session by Angel Navarro Photography."

BRADENTON HIGH SCHOOL SENIOR PICTURES – I had the privilege of photographing Kourtney's sister's high school senior pictures almost two years earlier. And, now it was Kourtney's turn in the spotlight. Kourtney requested a rural look with trees and green foliage for one of her looks. She also wanted some photos that had more of a fashion and upbeat vive to them, so I chose a secret location with repeating white columns on both sides of a covered walkway. A suggestion I made early in the planning process of good senior picture ideas, was to include bold colors in her senior pictures. For that look we headed to a location with parked, inactive trains with lots of reds and oranges. The senior images below are the results of good planning and an amazing young lady!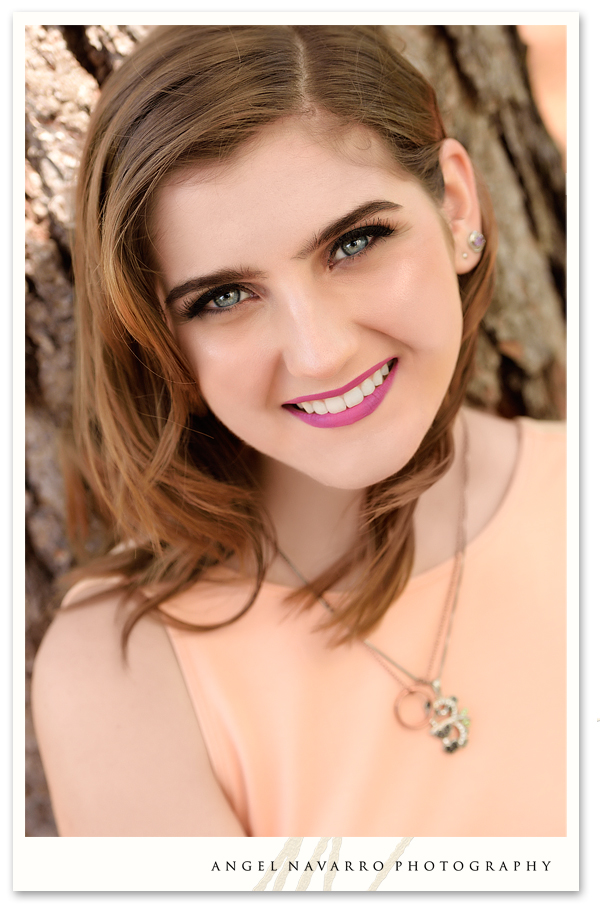 (Above) I began Kourtney's high school senior session with a close-up headshot of her leaning up against a heavy-textured tree. We visited a wooded area with plenty of green foliage for the rural looks we were all after. This photo of her shows a beautiful smile as her personality shines through.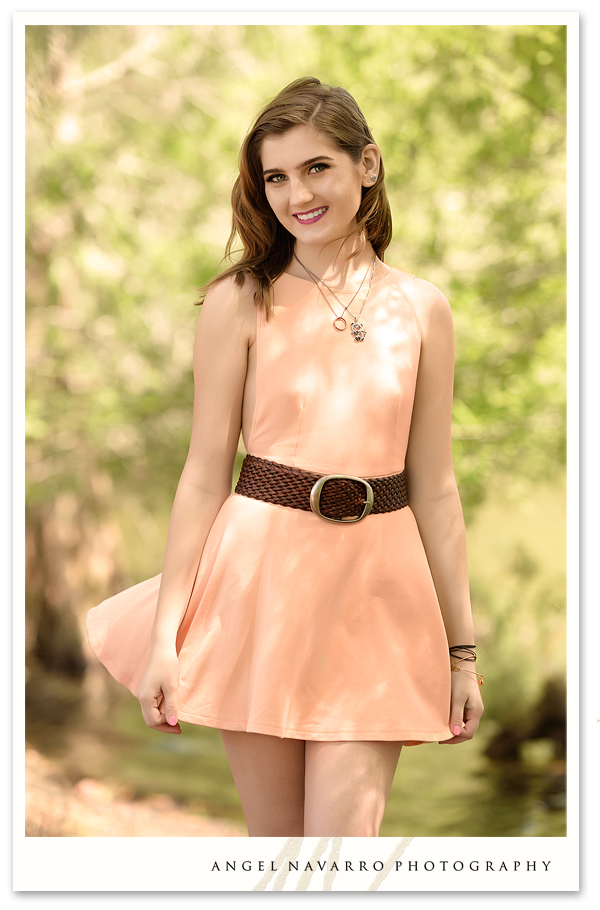 (Above) Using the surrounding green foliage and a shallow depth-of-field for a blurry background effect in the background, I posed Kourtney in a semi full-length pose for this senior picture. Holding the edges of her dress gives this portrait a pretty feminine look.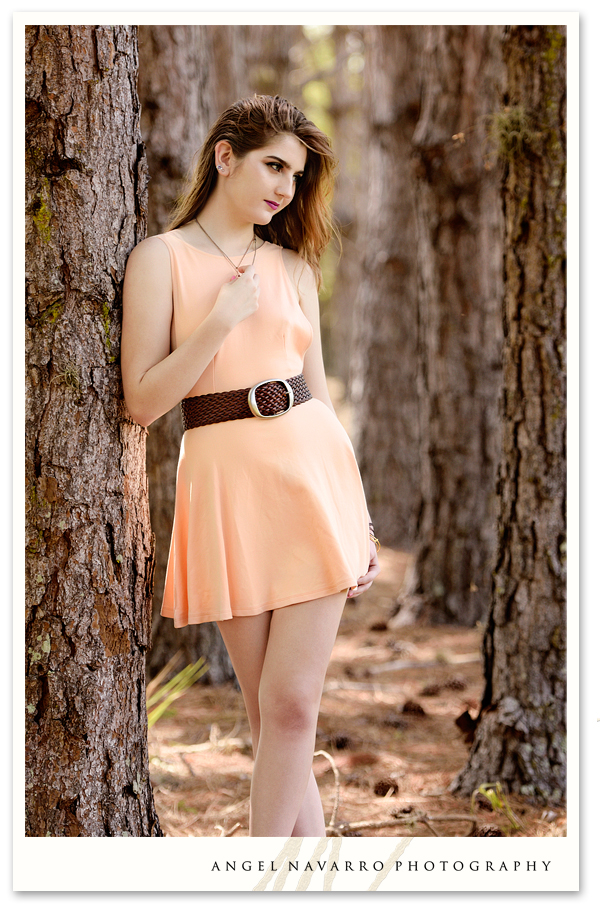 (Above) I continued to use the same wooded rural-looking area in the previous portrait, to craft different looks throughout our Kourtney's senior picture session. The repeating tree line behind her really adds extra dimension and texture to an already great looking portrait of this beautiful young lady.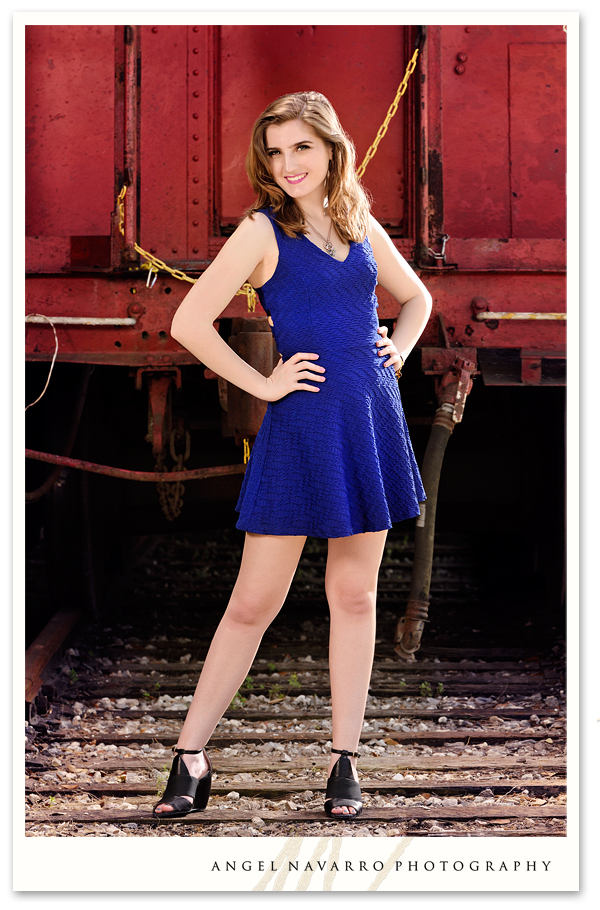 (Above) After using a wooded area for a picture backdrop, we decided to 'kick it up a notch' headed to an old train museum with antique classic train carts. For this senior picture, Kourtney put on a stunning blue outfit and struck a really kewl pose. The red color of the train in the background against her blue dress is a striking combination.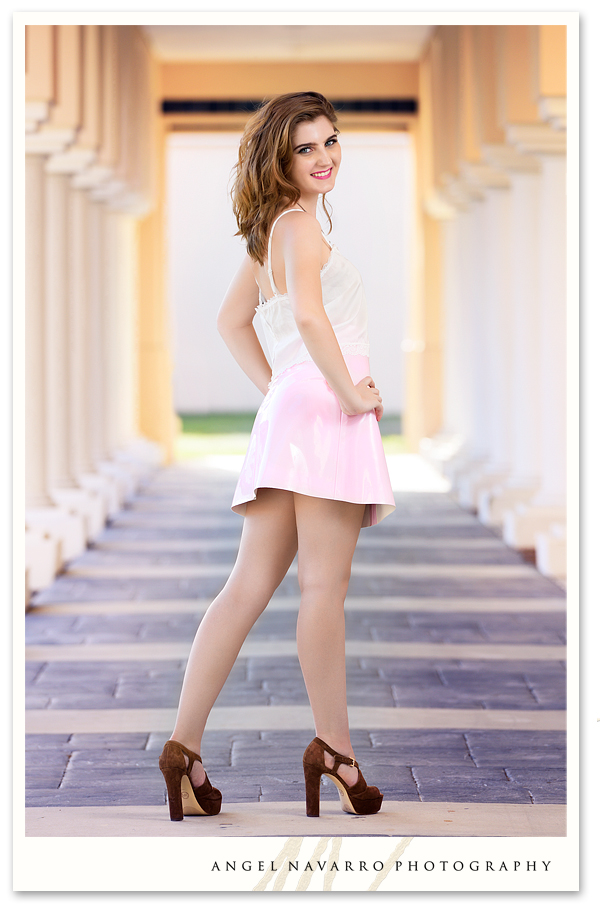 (Above) A pink mini-skirt and white repeating columns make this high school senior portrait stand out and gives it an amazing fashion photo look. As it is the creative style of Angel Navarro, a separation between her and the environment was used with a shallow-depth-of-field to blur the background.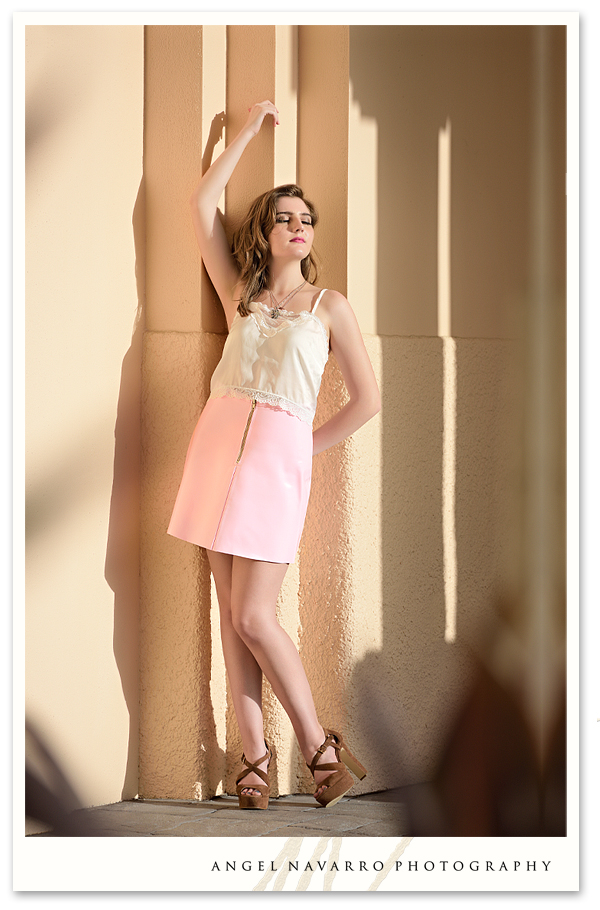 (Above) A change of direction for a new senior picture idea, places Kourtney in a more contrasty location for a fashion-like picture style. The direction of shadows seen on the wall she is posed on, caused by the late-day setting sun adds interest to this image.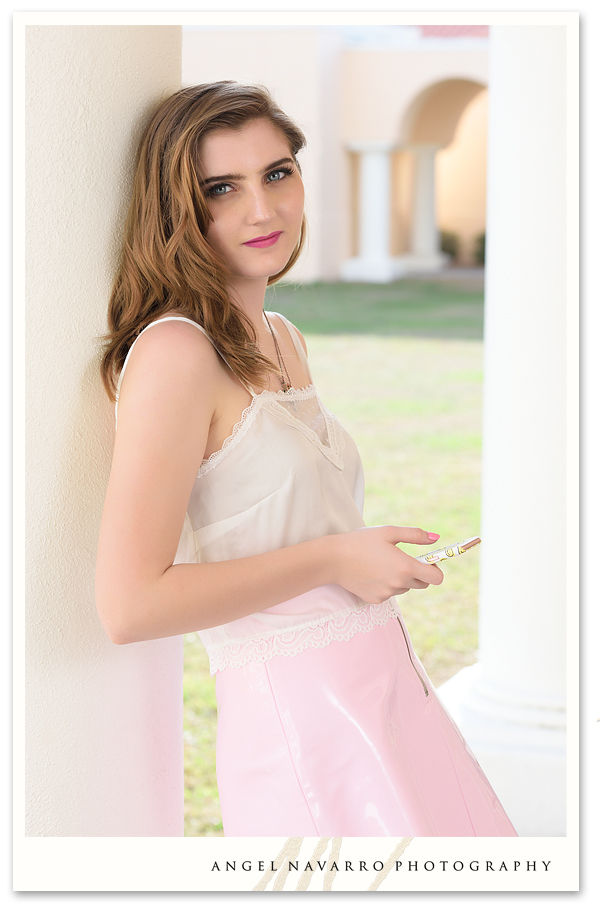 (Above) This candid and casual picture of Kourtney using her iPhone, was taken between poses as she waited for photographer Angel Navarro to set up her next pose. Kourtney is a true pleasure to work with, making her high senior photo session a neat experience.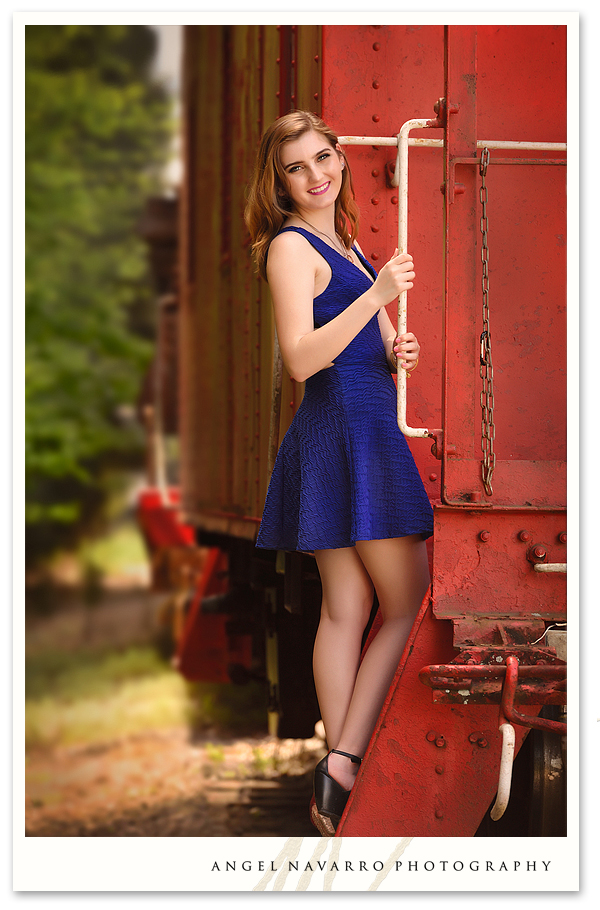 (Above) Back to the train museum for this absolutely amazing portrait of high school senior Kourtney, posed on the steps of tan antique train cart. Again, the color combination of the old red train and her deep, vibrant blue dress, makes this an absolutely awesome picture!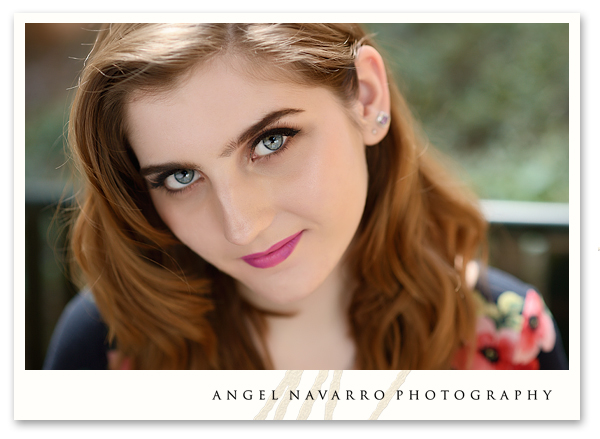 (Above) This outdoor headshot of Kourtney is absolutely gorgeous! This high school senior image will have a prominent place in her senior album.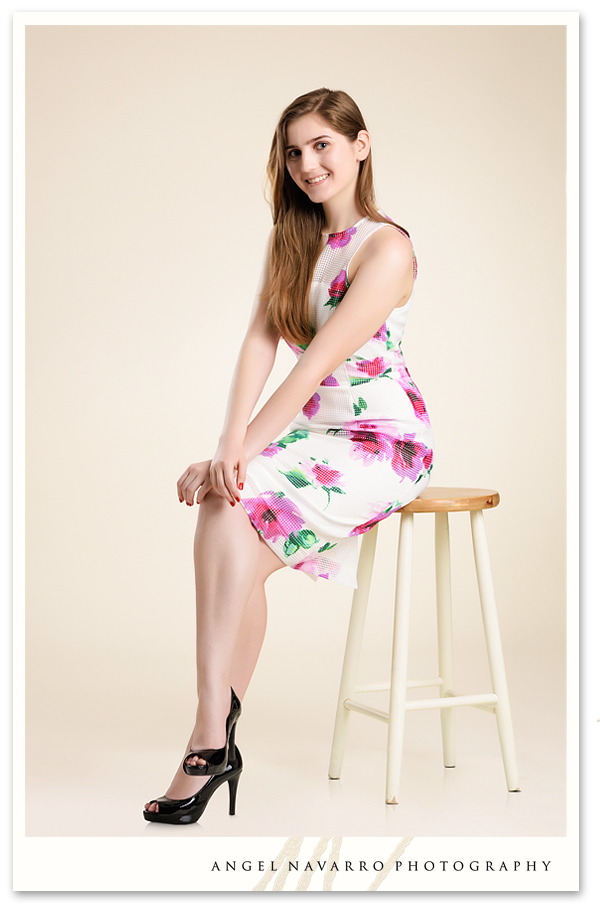 (Above) A traditional studio portrait of our high school senior client in a pretty dress with heels. The clean off-white background makes Kourtney pop.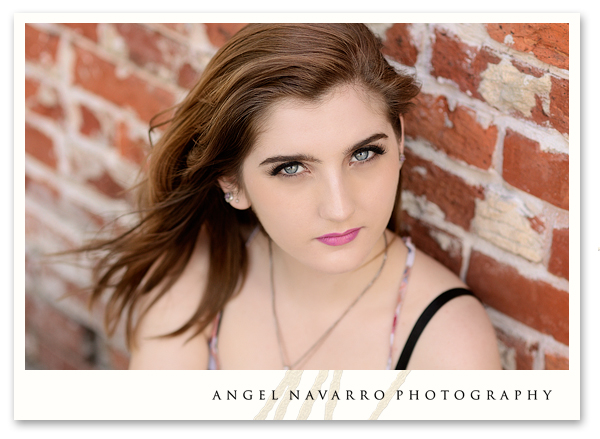 (Above) This is an incredible headshot of Kourtney,  showing her beautiful hair and beautiful blue eyes. She is leaning upon a red brick wall that resembles the color of her hair. I internationally placed her shoulders are out of focus in order to bring all the attention to her face.
Like to schedule a session for senior pictures? Click here to get started.
by Angel Navarro Photography
High School Senior Photographer
Website: http://www.angelnavarrophotography.com
Blog: http://www.angelnavarroblog.com
Facebook: "Angel Navarro Photography"
Twitter: "@Angel_Navarro"
e-Mail: angel@angelnavarrophotography.com
(941) 538-6804