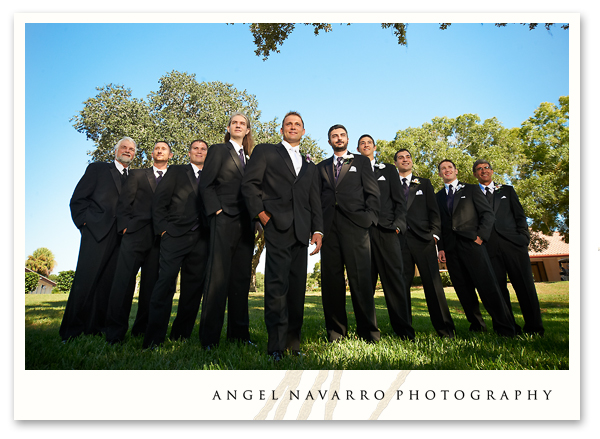 (Above) Here is an interesting perspective for a groom and groomsmen portrait. I thought about correcting the perspective, but decided that it works well as it leads the viewer in towards the groom.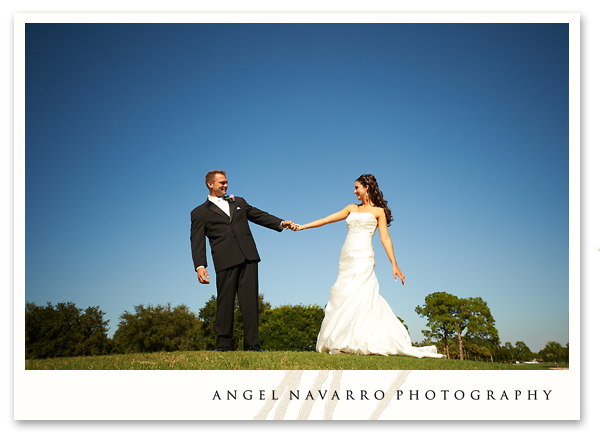 (Above) Sometimes I can convince a couple to see each other before the actual ceremony. I call this a "First-Look Session" and it allows the couple to extend that moment of seeing each other for the first time as opposed to the brevity of it at the altar. It also allowed me to plan and stage the moment for a different look and feel.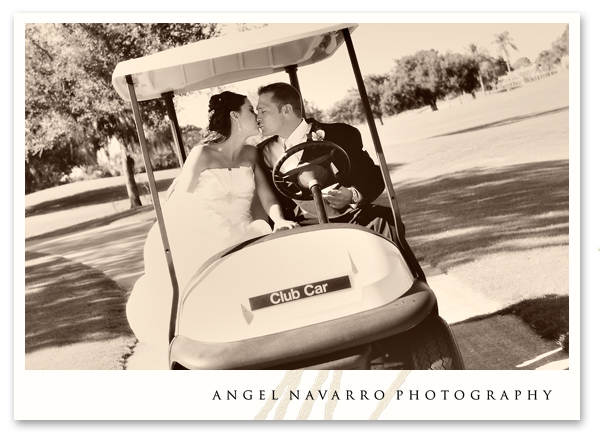 (Above) On the way back from the "First-Look Session", I asked Brian if he and Jessica would ride a golf cart back to the main grounds. They agreed and I jumped into another cart and grabbed this shot while my assistant was at the wheel.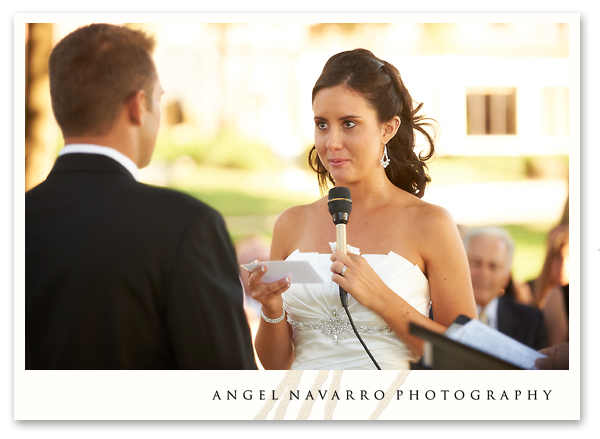 (Above) Jessica repeats her vows to Brian. You may notice that she is tearing a bit.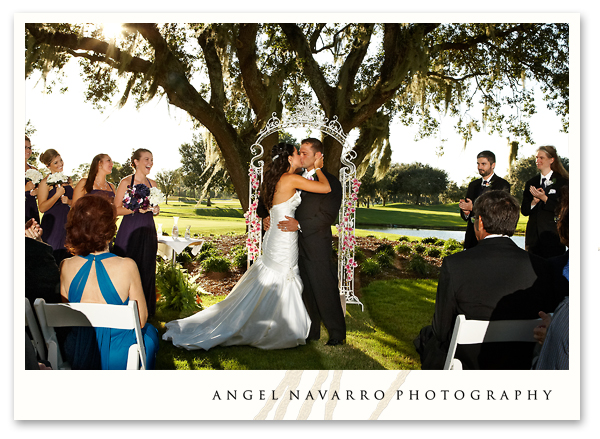 (Above) They are announced as husband and wife and they seal the deal with a kiss.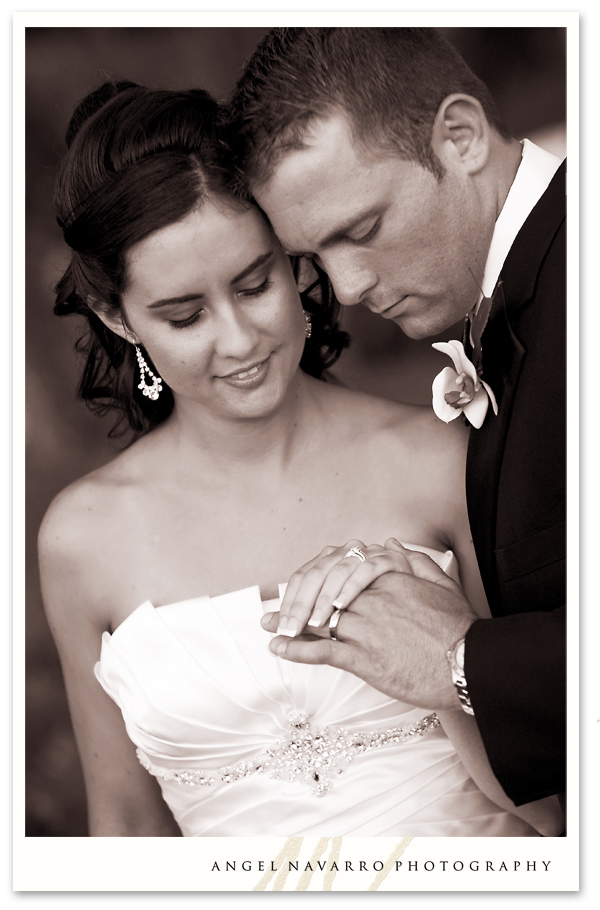 (Above) During the reception I will typically invite the newlyweds out for a short portrait session.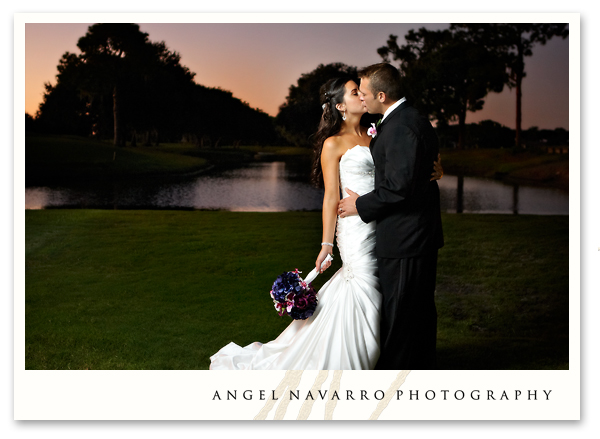 (Above) This image followed, as I felt the light was right for creating the mood I was looking for in the background.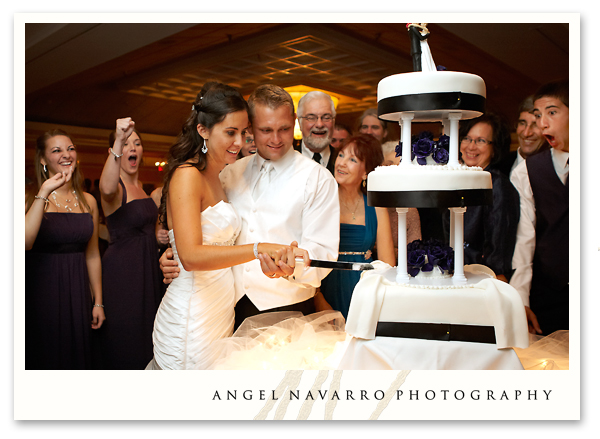 (Above) Brian and Jessica cut their wedding before their friends and family. I began, many years ago, asking friends and family members to gather behind the wedding couple and create some cheer in the background. So often I see cake cutting photos with a wall behind the couple which I feel makes the image lack guest participation.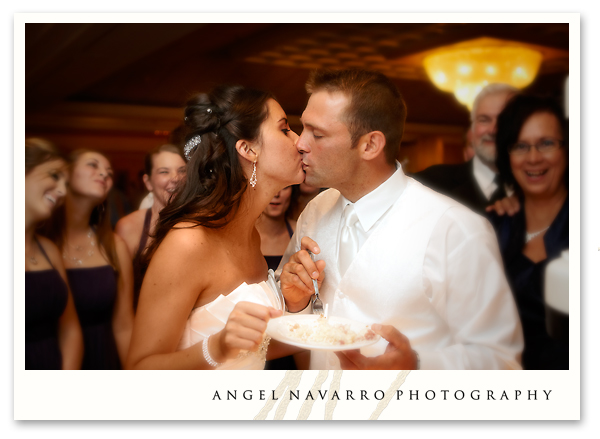 (Above) Some couples will daringly splash each other with their wedding cake. Brian was a real gentleman and refrained himself. Great job!!!
by Angel Navarro Photography
Florida Wedding Photographer
website: http://www.angelnavarrophotography.com
blog: http://www.angelnavarroblog.com
Facebook: "Angel Navarro Photography"
Twitter: "@Angel_Navarro"
e-mail: angel@angelnavarrophotography.com
(941) 538-6804